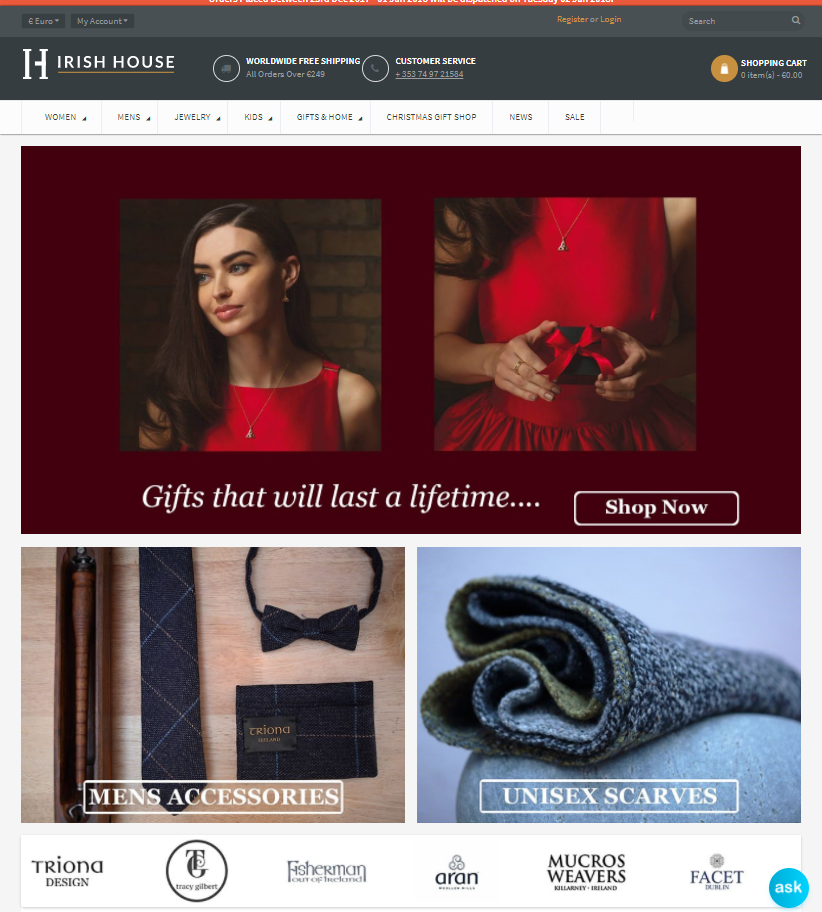 Website:
Area of Business:


Irish House is one of Irelands major online suceess stories, and they have built a hugly succesful business offline in Donegal and online and have become synonymous with Irish Tweed.
Details


"Irish House is the home of Quality Irish Product. We are proud of our Irish Heritage and our aim is to deliver Authentic Irish Products direct to your door. We love to support Irish Craft in design and showcase Irish Talent to a worldwide audience.

Our Collections include the finest Donegal Tweed from Triona Design; where we have a superb selection of Capes, Coats, Jackets and Throw Capes for Women and Jackets and Coats for Men. This is a beautiful collection inspired by the landscape of Donegal and designed with style and quality in mind.

Our Buyers have selected the highest quality Irish Jewelry to give you an unrivalled selection of exclusive Irish Pendants, Irish Rings, Irish Earrings and Bracelets suitable for all tastes. Our own 'Emigration Ring' has been exclusively designed for our Irish House customers.

Alongside our Tweed and Celtic Jewelry range we also offer a fabulous collection of knitwear. We have beautiful Irish sweaters and Irish cardigans from the renowned Aran Woolen Mills for Women, Men and a beautiful Children's range.

We are passionate about the preservation of our Irish Heritage and want to continue to champion Irish Craft and Design by giving you an unrivalled selection of products delivered direct to your door from Irish House in Donegal, Ireland. "
No of years a client of Future Business: 1